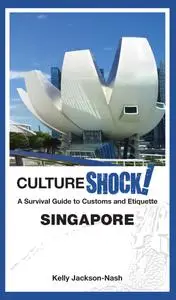 CultureShock! Singapore (CultureShock!) by Kelly Jackson-Nash
English | July 15th, 2020 | ISBN: 9814677116 | 360 pages | EPUB | 11.53 MB
CultureShock! Singapore is essential reading for any foreigner who is going to live and work in the city. It is packed full of practical information as well as interesting trivia on the colourful customs and culture of the people. Learn how to get around the city effectively by public transport like the locals and how to assimilate quickly and shop for groceries. Join in the local celebrations such as Chinese New Year and Deepavali, and find out the best places to enjoy Singapore food such as laksa and nasi briyani. Packed with a resource guide, glossary, contact numbers, website addresses and useful advice, CultureShock! Singapore has the answers for anyone wanting to fit in and enjoy life in the Little Red Dot.
About the Series: CultureShock! is a dynamic, indispensable series of guides for travellers looking to truly understand the countries they are visiting, working in or moving to. Each title explains the country's customs, traditions and social and business etiquette in a lively, informative style. CultureShock! authors, all of whom have experienced the joys and pitfalls of cultural adaptation, are ideally placed to provide warm and helpful advice to those who seek to integrate seamlessly into diverse cultures.
https://dropapk.to/cbagi3lnnnim