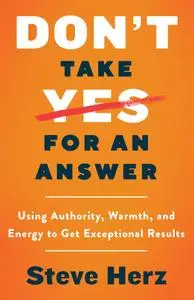 Don't Take Yes for an Answer: Using Authority, Warmth, and Energy to Get Exceptional Results by Steve Herz
English | June 16th, 2020 | ISBN: 006286971X | 192 pages | EPUB | 0.97 MB
One of the nation's premier talent agents and career advisors shows you how to catapult your career and your life forward with three key communication strategies—Authority, Warmth, and Energy.
A self-empowerment guide to achieving your fullest professional and personal potential, Don't Take YES for An Answer explains why positive feedback limits personal and professional growth and then teaches you how to embrace hard truths and critical feedback to escape mediocrity and break away from the pack.
To stand out, to attract the attention of those who can raise your profile, to protect yourself during lean times, or to gain the interest of future employers, you must harness three critical communication traits that human beings respond to most: AWE: A—Authority. W—Warmth. E—Energy. When all else is equal—education, work ethic, intelligence, experience, ambition—the single biggest factor in winning business, promotions, friendships, or followers hinges on our ability to communicate and connect. Mastering AWE gives you an unparalleled advantage over the competition, no matter your field.
https://dropapk.to/x74yu6wx5ugj
https://dropgalaxy.in/p13a1ceau7ts
https://rapidgator.net/file/eb438041000493fc70911b6e011d1a9e/Don't_Take_Yes_for_an_Answer_-_Steve_Herz.epub.html