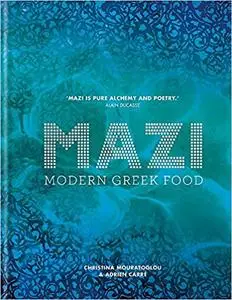 MAZI: Modern Greek Food by Christina Mouratoglou, Adrien Carré,
English | ISBN: 1784723177, 0228100348 | 2018 | EPUB | 288 pages | 92 MB
Probably the best Greek restaurant in England, Mazi is pure alchemy and poetry."
– Alain Ducasse, renowned triple Michelin-starred French chef
The Greek word mazi means "together" – gathering, company, mass, combination, mixture. In the realm of food, mazi is a stimulating combination of flavorful dishes perfect for sharing.
Mazi features 115 inspired interpretations of traditional Greek food, including many dishes that happen to be gluten-free, vegetarian or vegan. The recipes are easy and quick to make and use readily available ingredients, with alternatives noted for the few specialty ingredients. The recipes include:
Amuse Shots (Amuse bouches) – Watermelon and Mastiha (liqueur); Lime and Mint; and Winter Orange and Spice
Bread and Condiments – Koulouria (bread rings); Ladenia (tomato-topped bread); Tiropsomo (fried cheese bread)
Jars (mezedes, appetizers) – Grilled Aubergine With Soy and Thyme Honey; Fish Roe Mousse Tarama (smoked cod roe)
Salads and Raw – Oysters Mojito; Figs, Warm Talagani (cheese) and Baby Leaves With Rakomelo (pomace brandy); Stir-Fried Politiki Salad (politiki meaning from Constantinople)
Hot Plates – Crispy Lamb Belly With Miso Aubergines and Chickpea and Tahini Purée; Grandmama's Meatballs With Handmade Crisps; Clam and Prawn Pilafi With Roasted Tomatoes, Lemon and Saffron
Signature Dishes – Caramelized Iberico Pork Chop; Slow-cooked Lamb Shank With Vegetable Briam (ratatouille); Lobster Pasta With Metaxa (brandy) and Basil; Vegan Magiritsa (soup)
Desserts – Angel Hair With Almond Custard and Caramelized Nuts; Kolokithopita (butternut filo pie); Walnut and Metaxa Cake; Easter Tsoureki; Warm Rice Pudding With Vanilla and Lemon
Cocktails – Mastiha Mojito; Tzatziki Martini; Gingerouzo; Hot Méli (honey).
Mazi brings a trendy tapas vibe to 115 recipes exploding with flavor from the finest fresh ingredients. Authentic with a modern twist: Mazi is innovative Greek food at its best.
https://dropapk.to/1av6ti3tajtw
https://dropgalaxy.in/rydcqauqm3x6
https://rapidgator.net/file/491f79f76fa4c27adb30bd232f19f70e/1784723177.epub.html