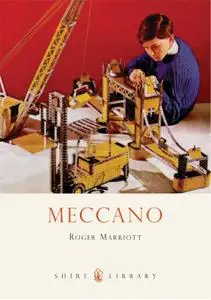 Meccano (Shire Library) by Roger Marriott
English | July 24th, 2012 | ISBN: 0747810567 | 80 pages | EPUB | 17.21 MB
The origin of the name is uncertain but it is now over 100 years since Frank Hornby first used the word Meccano for the toy he invented to amuse his sons. Like the product it described, it is now known all over the world and has entered the dictionary as a term in common usage. Frank Hornby's vision of an educational toy became the basis of perhaps the most successful British Toy manufacturer of the 20th century.
Meccano's success, which even surprised its inventor, supported the development of many other high quality products. As well as the famous Hornby trains and Dinky Toys, special purpose motor car and aeroplane construction sets have captivated the imagination of boys since the 1930's. Using a wealth of colour illustrations Roger Marriott tells the story of Meccano, its development into a sophisticated range of parts and outfits embodying correct engineering principles, enabling boys of all ages to build models reflecting the technology of their time.
For more than a century Meccano has amused several generations of boys, and a few girls, and encouraged many to become successful engineers. For many of the boys who grew up with Meccano it is still a fascinating way to "build a new toy every day", to create cranes, planes, trains, cars and many others, that really work to the enjoyment of their grandchildren and themselves.
https://dropapk.to/094w899nvjq5
https://rapidgator.net/file/03974fbd6c86565ec750f5ed598abca5/Meccano_-_Roger_Marriott.epub.html